Women's Ministry
At The Harbor Church, the women's ministry is all about…women – just like you. Our focus is to encourage you as you grow in Jesus, help connect you with other women in our church as you learn more about the Bible, give you opportunities to share with other women as you go through the seasons of life, and to come along side you to pray when there's a need. Beyond that, we're always ready to simply sit and have nice cup of coffee with you.
CONTACT INFO: If you have prayer requests, want to meet over coffee, or sign up for a Bible study or event, please email the pastor's wife: [email protected]
Women's Bible Studies
Winter/Spring Bible Study Groups
There are two ongoing Women's Bible Study Groups:
Thursday Evenings at 7:00pm - Small group Bible Study led by Ruth.
Meeting in The Harbor Church Cafe
Topics included in the book "The Practice of Godliness" by Jerry Bridges (Also available on Amazon). Please contact Ruth for more information here.
Tuesday Mornings at 9:30am - Bible Study led by Lisa Brown.
(child care available)
Meeting in The Harbor Church Cafe.
Topics included in the DVD study "God of Covenant" by Jen Wilkins, with it's emphasis on Genesis chapters 12-50.
Please contact Lisa for more information here.
"God of Covenant" Women's Study
For those who are unable to attend Tuesday morning Women's Bible Study, the Bible study videos are now available to download online.
Now you can study the same material at your own pace, in the comfort of your own home. Just click on the link below or go to my.lifeway.com/redeem to register or log in. The code to gain access is KT1WVTLCM3 .
Women's Knitting Group
Wednesday evenings @ 7:00pm in office across from Pastor Keith's office.
Come learn how to knit or crochet for the first time, or work on your own project. This group also knits hats for Operation Christmas Child shoeboxes.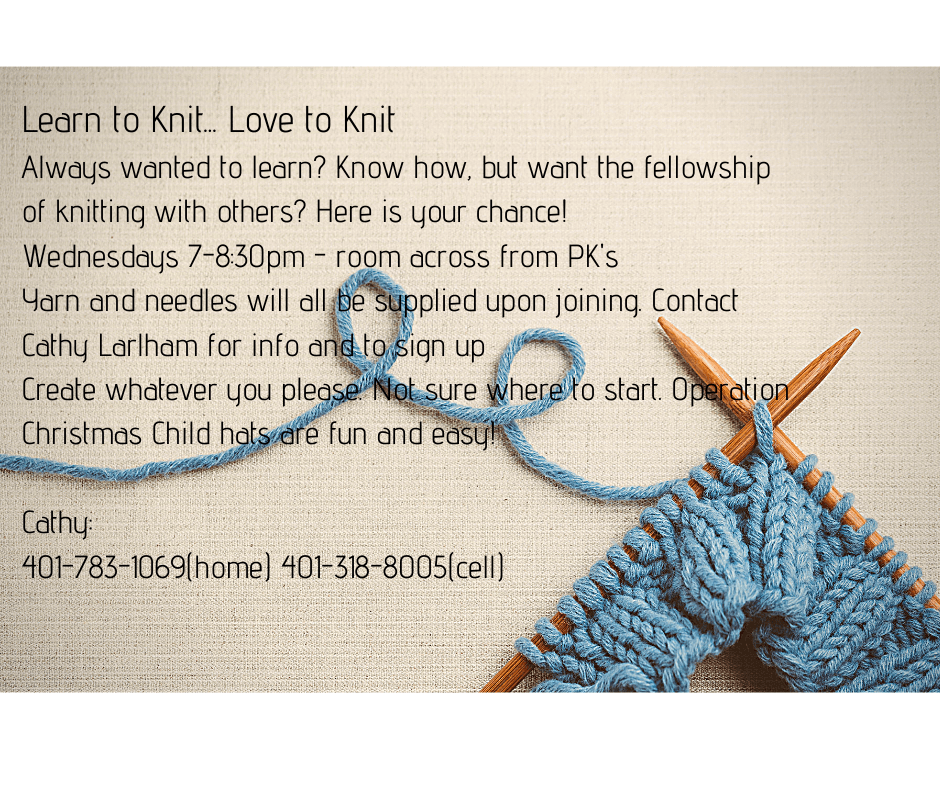 Amma's Storytime
Thursday mornings @ 9:30am in the Harbor Café.
Babies through preschool children and moms have an opportunity to meet for stories, song and play with Amma Ruth. Moms stay with their children and enjoy the company of other moms in a relaxing atmosphere.
No Story Time on Thursday, March 5th.
Other Upcoming Events:
SPRING RETREAT at The Harbor
Come be refreshed in God's Word. Save-the-date: Saturday, April 25th.
SPRING/SUMMER TEA
Sunday morning in June. Date TBD
Any questions contact Ruth Mlyniec, pastor's wife at [email protected] or text 401.474.8455.