Your Next Step
Making the decision to place your faith in Jesus Christ is truly the best and most important decision of your life!
By asking Jesus into your life, you now have God's promise of eternal life. Not only that, but he also promises that you'll have an abundant life here on earth.
Jesus said, "I have come that they may have life and have it abundantly." John 10:10
That abundant life began the moment you stepped over the line of faith and received Christ into your heart. Does that mean that your life will all of a sudden be easier? No, it doesn't guarantee that. However, it does mean that you'll find God's purpose for your life as well as enjoy the riches of his love, joy, and care.
But that's just the beginning. You've taken the first step, but what's next? The information on this page will help you on that path and show you how to start your journey of an abundant life in Christ.
You may still have questions about your decision to follow Jesus. Let's be honest, you may even still have doubts. But that's okay. Don't let those questions or doubts stop you from moving forward and experiencing the amazing journey of faith that God has planned for you, one step at a time.
Let's Review How One Comes to Faith in Jesus: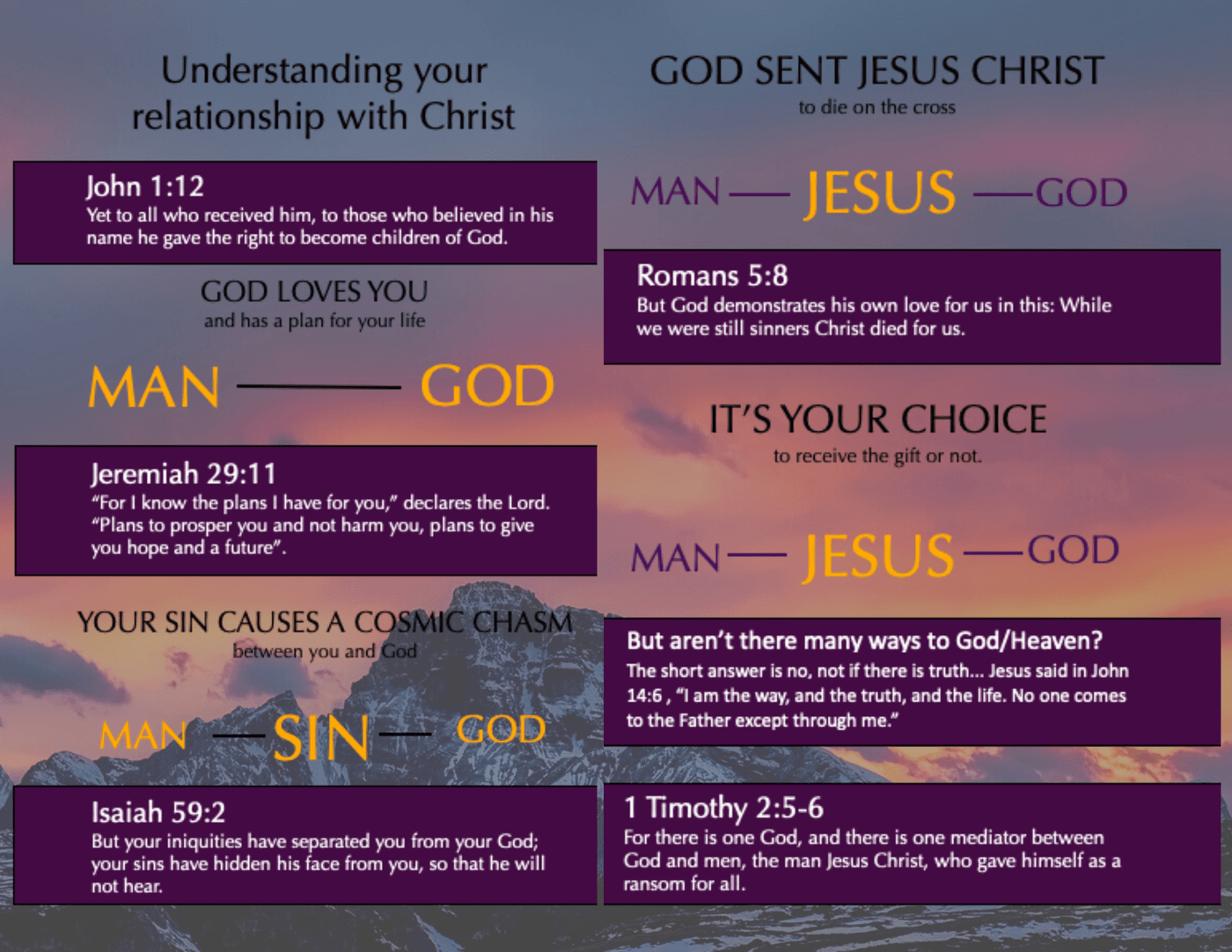 Baptism
Baptism is the first step we're supposed to take in response to believing in Jesus Christ.
We were buried therefore with him by baptism into death, in order that, just as Christ was raised from the dead by the glory of the Father, we too might walk in newness of life. Romans 6:4
It's an amazing time for new believers to declare that they now belong to Jesus. This obedient act of faith involves a believer being lowered into and then raised up out of water as a symbolic expression of the inward work of salvation that's already taken place in his or her heart.
Regardless of when you came to faith in Jesus, if you haven't yet been baptized, we encourage you follow the example and command of Jesus to be baptized.
To learn more about baptism Click HERE.
To schedule a time to be baptized fill out the box below and Submit.
Starting Point
God. Life. Faith. What's the Point? Make time to find out.
If you're new to faith, just checking it out, or coming back to church after some time away, Starting Point is a great first step.
Starting Point is an 8-week conversational small group experience where you can explore faith and experience community.
We offer Starting Point because we believe your curiosity deserves a conversation. By being part of a Starting Point small group, you'll find a safe and casual environment where you can join others in learning (or relearning) the basics of Christianity as well as get real answers to any questions or concerns you might have about God, Jesus, or the Bible.
If Starting Point is the next step for you, then we encourage you to sign-up today. Click HERE to sign-up.
Growth Track
If you are a new Christian, or maybe just new to The Harbor Church, then Growth Track is for you.
Growth Track classes are divided into three-week sessions called Discover, Deepen and Dedicate, all of which focus on learning about different parts of your faith as well as all about The Harbor Church.
If you're looking to find out about what our church is all about, how to better live out your faith, or connect to our ministries in church or throughout the surrounding communities, this could be your next step to take.
The entire Growth Track class is three weeks. Sign-up for our next growth track HERE.
Volunteer
You have gifts and skills to offer and now you're being given the opportunity to use them at The Harbor Church.
Volunteering isn't just about helping others; it's also one of the best ways to grow in your relationship with God. Today is the day to start living your life with a higher purpose in mind. We invite you to connect to a ministry team that's in need of your talents and fits your passion.
Here are a few ways to serve at The Harbor Church:
• Worship Team
• Creative Arts
• Harbor Café
• Kid's Club
• Guest Services
• Media & Production
• Student Ministries
To volunteer Click HERE.
As each has received a gift, use it to serve one another, as good stewards of God's varied grace. 1 Peter 4:10
Life Groups
Being part of a Life Group is the perfect complement to attending our Sunday morning worship services.
Life Groups provide the opportunity for you to build relationships, learn from the Bible, share prayer requests, and do life together with others who also want to grow in their faith.
Life Groups are small home groups from within our larger church community that meet in different neighborhoods in which people experience and live out Christian community – something that deep down, we all desire…and need.
Did you know that Jesus and his twelve disciples were part of a Life Group? We encourage you to be like Jesus and connect to the Life Group that meets nearest you.
And let us consider how to stir up one another to love and good works, not neglecting to meet together, as is the habit of some, but encouraging one another, and all the more as you see the Day drawing near. Hebrews 10:24-25
If you would like to join a newly forming virtual life group using Zoom, click HERE.
The Bible
Having a Bible is crucial to knowing God, growing in your faith, and figuring out how to navigate through life.
In a way, a bible is like an instruction book that contains all you need to know to live your life as God intended. As you begin to take your next steps of faith, you'll need to have a Bible.
You can buy a Bible at a Christian bookstore, online, or simply download a Bible app to your smartphone. There are dozens of really good modern Bible translations available; most people in our church use the ESV (English Standard Version), but the NIV and NLT are also popular. The most important thing is that you get a Bible…right away.
All Scripture is breathed out by God and profitable for teaching, for reproof, for correction, and for training in righteousness, that the man of God may be complete, equipped for every good work. 2 Timothy 3:16-17
Giving
Part of being a Christian is helping to support a local church. You don't give money because you have to, but instead because you want to.
Being financially responsible, it's up to you as to the amount you decide to give; some people at The Harbor Church give what they can, others give 10% of their income, and still others give even more than that. The key is that everyone gives willingly and generously.
There are three ways you can give to The Harbor Church. The first way is to drop cash or an offering dropbox during one of our weekend worship services. The second way is to give online through our website. To do that click HERE. The third way is to give by text; this one is really easy, all you need to do is text 84321, type in a dollar amount and then follow the directions.
Honor the Lord with your wealth and with the first fruits of all your produce; then your barns will be filled with plenty, and your vats will be bursting with wine. Proverbs 3:9-10
Welcome
We're so glad that you've begun your walk with Jesus today.
We believe that through Jesus Christ, God's love has touched you, and through the Holy Spirit, has changed your heart. You're now a child of God with a wonderful future ahead of you. Yesterday you didn't have the assurance of going to heaven; today, by repenting of your sins and believing in Jesus, you have that promise.
Truly, truly, I say to you, whoever believes has eternal life. John 6:47
The Harbor Church is made up of a mosaic of people that God has brought together to worship him, experience Christian community, and tell others the good news of Jesus in creative, relevant, and practical ways. We're excited about growing in the grace and knowledge of God. We invite you to join us as we experience the true life made abundantly possible by Jesus' death, burial, and resurrection.
You've taken the first step on a journey that will one day end up in heaven.
We hope that you'll choose to walk the path God is unfolding for you with us. Our prayer is that God will guide and bless each new step of faith you're about to take.
Pastor Keith & Ruth